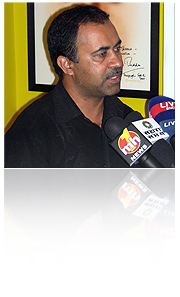 Kamal Sharma: A Biography
Born in Udaipur, Kamal Sharma is a Post Graduate in Drawing & Painting from ML Sukhadia University Udaipur. He has participated in several National & International exhibitions. Noteworthy among them are:
28th National Art Exhibition (Lalit Kala Akademy) 1987
4th International Design Competition organised by Japan Design Foundation,Osaka,1989
West Zone Cultural Center,1991
4th All India Poster Competition organised by SYPM, New Delhi, 1992.
Kamal has received several prestigious awards for his contribution to fine arts. Significant among them are:
University Color in Fine Arts,1987
Gold Medal by the University of Bombay,1987
Maharana Mewar Foundation Award,1998 & 1993
1st Prize in All India Poster Competition organised by the Ministry of Environment & Forests,1993
1st Prize in All India Environment Painting Competition organised by Rajasthan Lalit Kala Akademy,1995
1st Prize in National Competition organised by NCERT, New Delhi,1995
Merit Certificate in International Poster Contest – 96 organised by NCERT-UNFPA.
Various interviews, paintings and articles are to the credit of the artist. Prominent publications where the same have appeared are: Indian Express, Navbharat Times, Dainik Jagran, Dainik Bhaskar & Rajasthan Patrika.
Kamal is a versatile artist beyond the confines of any particular style or school of Painting.