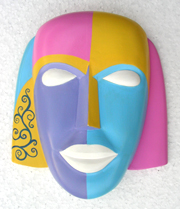 Corporate Gifts
Corporate Gifts play an important role in building smooth business relationships and expressing the admiration and respect for your partners and clients. At Kamal Sharma's Art Gallery, you are offered a wide range of Corporate Gift packages which are designed and crafted to fit your custom needs.
These includes Photo Frames, Crafted Wooden Swords, Painted Pots, 3D Paintings with gold leaf work, Artistic envelopes, Sweets container and lot more.
"We are open to any ideas, concept or suggestions. You imagine, and we will make it; on any medium, any style and any size", says Kamal Sharma.
Kamal Sharma possesses a very sophisticated and well maintained work shop for Corporate Gifts manufacturing. This includes well trained professionals equipped with latest machinery to cast and design the frames and other collaterals for gift items. This makes sure that you will never get delayed with the delivery of gifts.
The shipping and transportation for corporate gifts is available for any location world wide. For further enquiry and information about corporate gifts, you may visit Kamal Sharma's Art gallery or leave a comment from the contact section.